!-GénérEpar Avanquest Technology v:8.0. Pour plus d'information, visitez : http://www.avanquest.com -->
Cheryl King Couture designs and handcrafts the finest
couture bridal headpieces, wedding veils, couture luxury jewelry and bridal belts.

Please enter our site to find out about our company and sample a tasting of our headpieces, including our couture tiaras, combs, crowns, hairpins, hair jewelry, fascinators, hair sticks, destination hairpieces, vines, hats, caps,
backpieces, foreheads, wreaths, circlets, headbands, hatinators and vinepins.
You may also view selections from our vast collection of couture veils, including lace veils, mantillas, cagers (also known as cage veils or birdcage veils), blushers, cathedral veils, pick up veils, shawl veils, petal veils, and
heirloom restorations/reproductions. You may also enjoy our couture jewelry and bridal belts.


We use the finest materials available, such as Swarovski crystals and pearls, cubic zirconias, jewelry grade freshwater pearls, sterling silver, gold/gold-filled/gold plated, shells, feathers, French/Russina net, French laces, porcelain, precious and semi-precious gems and many other fabulous items to create the perfect accessories. Please contact your full service bridal salon to view our styles, or if you are a retailer you may contact us about our wholesale program.
cager veil, cager, couture jewelry, couture headpiece, couture veil, Made in America, Made in the US, tiara,crown,comb,veil,headpiece,mantilla,lace,bride,bridal,wedding,custom,chantilly, alencon,sterling,hairpin, hairstick,vale,vail,cheryl king, ltd., chantilly lace, wendell, north carolina, nc, n.c.,russian, french,illusion,netting,veiling,couture,handcraft,design,designer,unique,elegant,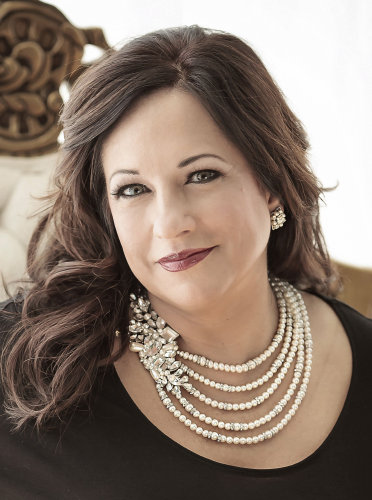 Chief Designer Cheryl King
has been handcrafting couture luxury accessories
in the USA since 1986
Cheryl King Couture handcrafted designs include exquisite
headpieces from simple elegance to elaborate confections
of Swarovski Elements, cubic zirconias, freshwater pearls, feathers,
seashells, French laces and many other gorgeous details.
Each fabulous veil is hand cut to specifications, and embrace skillful and
glorious abundance of creativity. Our jewelry is lovingly composed
of Swarovski Elements, cubic zirconia and freshwater pearls
hand selected from pearl farms. Rounding out the extensive collection
are the scintillating beaded belts and sashes
adored by women around the world.
We are proud to sell to the finest salons worldwide,
including Kleinfeld and Neiman Marcus.

Cheryl King Couture designs have been featured on

"Say Yes to the Dress," "Randy to the Rescue," "Brides of Beverly Hills,"
as well as other tv shows and movies.
Fashion Editors select our designs to grace their magazines
in their editorial sections and on the covers.

Our jewelry designs are not limited to bridal,
and are perfect when worn on the red carpet
or any time a woman desires glamour and luxury.